Support Service Offerings

24/7 - L1/L2 TAC4
The 24/7 Tier 1 and Tier 2 Technical Assistance Centre (TAC) is a support service that provides round-the-clock assistance to customers encountering technical issues with products or services. Tier 1 support handles initial inquiries and common problems, offering quick solutions or routing more complex issues to Tier 2 support

Pre and post-deployment support
Pre and Post-Deployment Support Services are designed to assist customers at critical stages of implementing a new product. Before deployment, this support helps to plan, configure, and prepare for a smooth rollout. Post-deployment, the service ensures a seamless transition and helps customers optimize the usage of the newly implemented solution
Level 3 (L3) Support
The 24/7 Tier 1 and Tier 2 Technical Assistance Centre (TAC) is a support service that provides round-the-clock assistance to customers encountering technical issues with products or services. Tier 1 support handles initial inquiries and common problems, offering quick solutions or routing more complex issues to Tier 2 support

Resident Engineering Services
Resident Engineering Services provide dedicated on-site support, where skilled engineers are stationed at the customer's location to offer continuous assistance. This service is especially valuable for large-scale projects or complex installations that require constant monitoring, fine-tuning, and immediate issue resolution

System Integration Support
This service involves skilled engineers who understand the complexities of various systems and work closely with the customer's IT team to ensure a smooth integration process. They troubleshoot compatibility issues, configure settings, and perform thorough testing to verify that the integrated system works harmoniously and meets the desired objectives
Support Service – Customers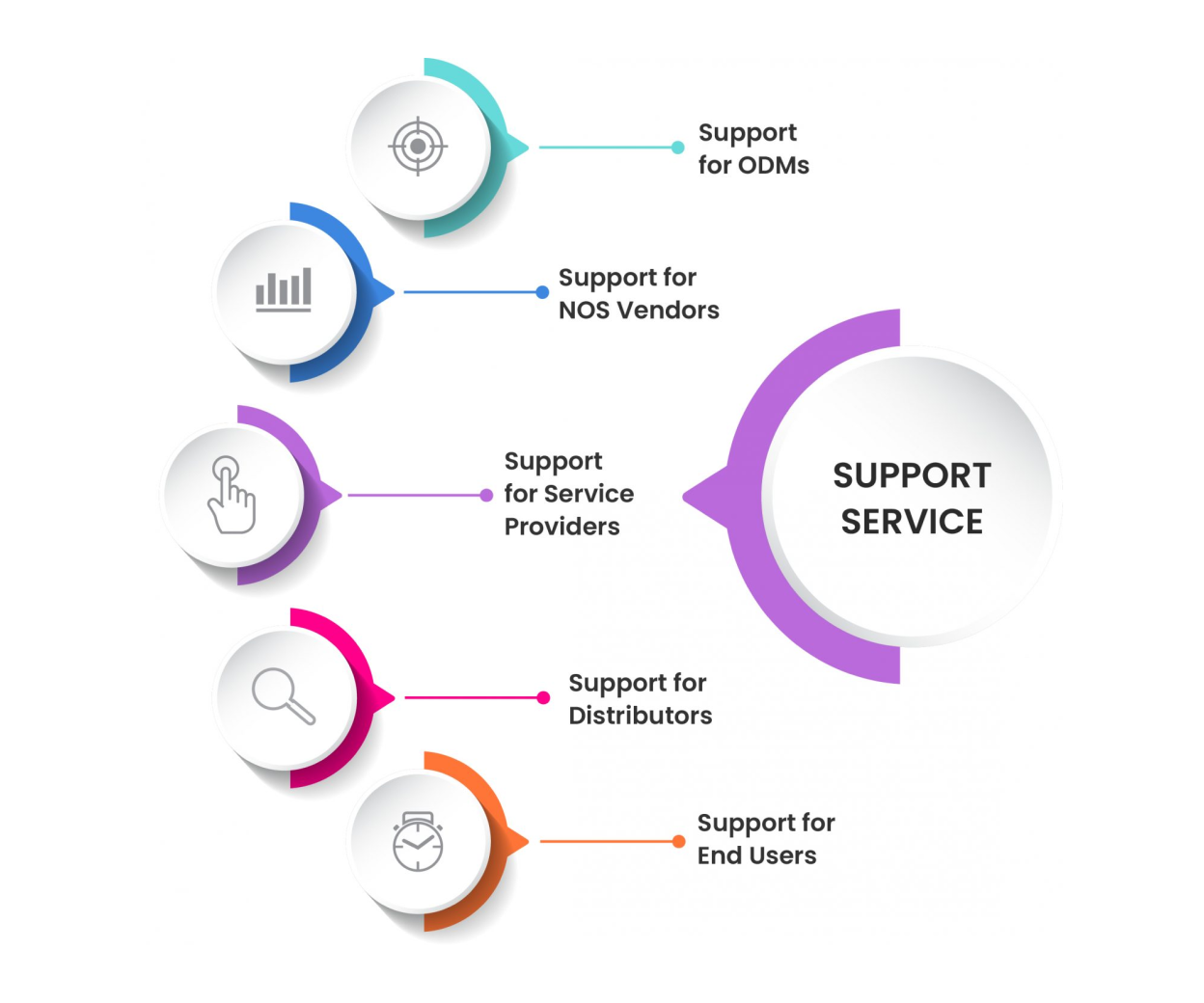 Comprehensive software support for (ODMs) to identify/root-cause their hardware issues and ensure seamless integration with software solutions.
Tailored technical assistance for Network Operating System (NOS) vendors, helping them achieve superior performance, scalability, and reliability in their network environments.
End-to-end software support for service providers and operators, encompassing network management, troubleshooting, and proactive maintenance to ensure uninterrupted service delivery.
Dedicated software support for distributors, offering technical guidance, training, and resources to help them effectively market and distribute our software solutions.
User-centric software support for end users, providing timely issue resolution, software updates and ongoing guidance to enhance their overall experience and productivity.
Confidently Run your business with PalC Networks Support & Services
700+
Man Year of Experience